Gaining relevance as a brand in times of digital detox and consumers preferring smaller niche and local brands
While investments in online advertising are still on the rise and in most markets more than 50% of media budgets are spent online and increasingly more mobile than desktop, one would expect global brands to be growing more than ever. However, especially multinational FMCG companies find it harder to keep up the sales growth they were used to in the past. Mondelez CEO Dirk van de Put recently said in an interview to Handelsblatt that he foresees the end of big global brands covering all markets with the same brands and products and the increased power of smaller, more authentic and innovative brands. Even investing in more branding, huge media budgets and diversifying existing products ranges didn't seem to have worked for any of the big players. His prediction is that also supported by the rise of online shopping. People are demanding more and better choice, which will be hard to manage for the established big (FMCG) brands. YouGov data proves that the variety is actually the number one reason in Germany, the UK and Denmark to shop online: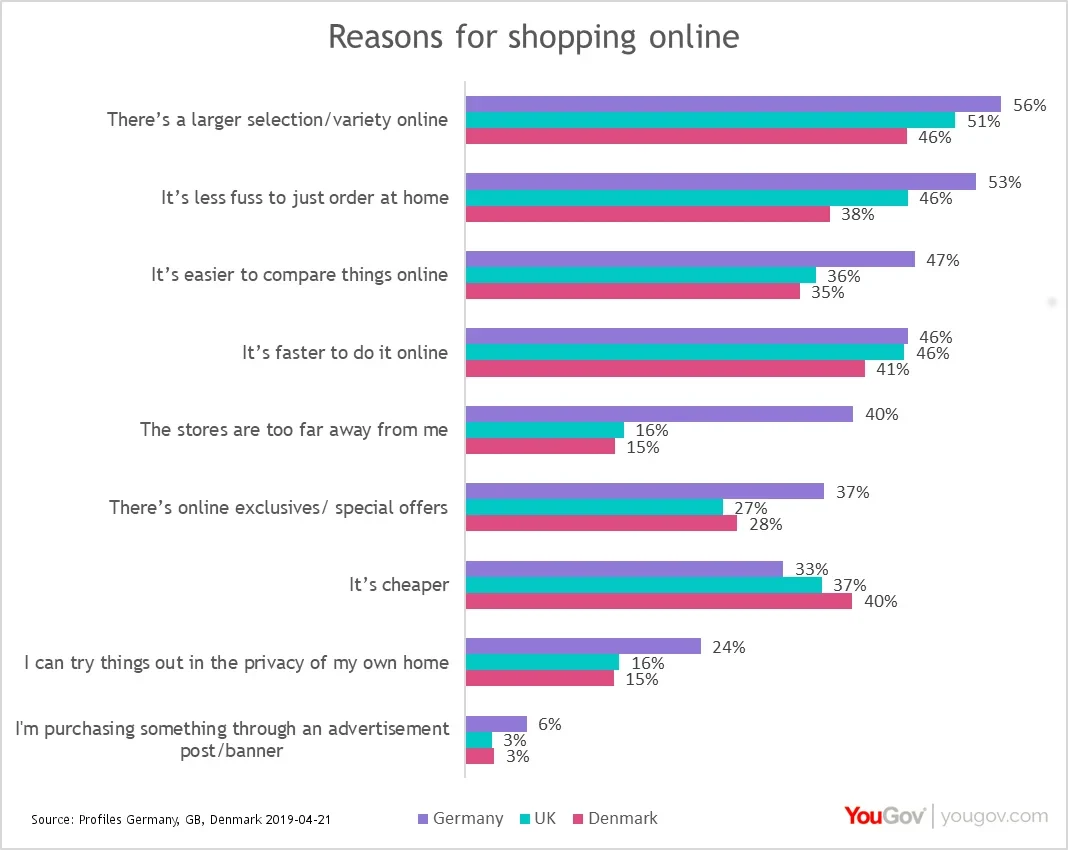 This trend is currently helping local brands, rather than global players and is even reinforced by another trend for supporting local companies who offer unique, home-made and regional products. 59% of the Germans prefer to shop at local business, and the figures are higher in Great Britain and Denmark, at 63% and 68% respectively. E-commerce enables even smaller and local or niche products to be provided to a national or even international audience and creates a great challenge for established brands. Having a bigger assortment of products would require new approaches to supply chain management and communication.
Additionally, it is getting harder for any brand to gain attention through mass communication. 72% in Germany, 68% in GB, and 66% in Denmark feel bombarded by advertising, and 48% in Germany and 65% in GB agree, "Ironically, the internet has made us less connected". Alongside lifestyle trends for more work-life balance and more mindfulness, more and more people are looking for a "digital detox", using less social media or shutting down their digital devices for a few days. These figures illustrate that before gaining attention or interest it is hard to actually have the opportunity reach certain audiences online. Finally, ad blockers are used by 37% of the population in Germany and 32% in the UK. Conversely, the percentage of those who definitely do not use any blockers are 58% in the UK which is 13 perecentage points more than in Germany, which is known for being more protective with its data.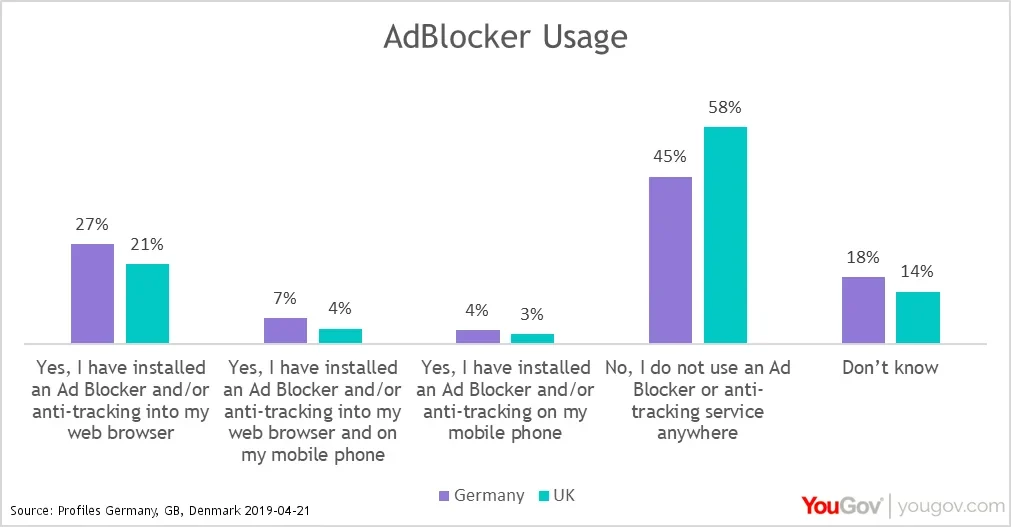 Looking only at the users of ad blockers, both countries show similar reasons for doing so and avoiding annoying or intrusive ads are the top two reasons. Interestingly, German ad blocker users almost say twice as often that they want to stop themselves from extra shopping and therefore disable online ads. Furthermore, while the ad blocker usage itself is a bit higher in Germany, they disable their ad blockers more often for particular websites to access full content (37% vs. 28%).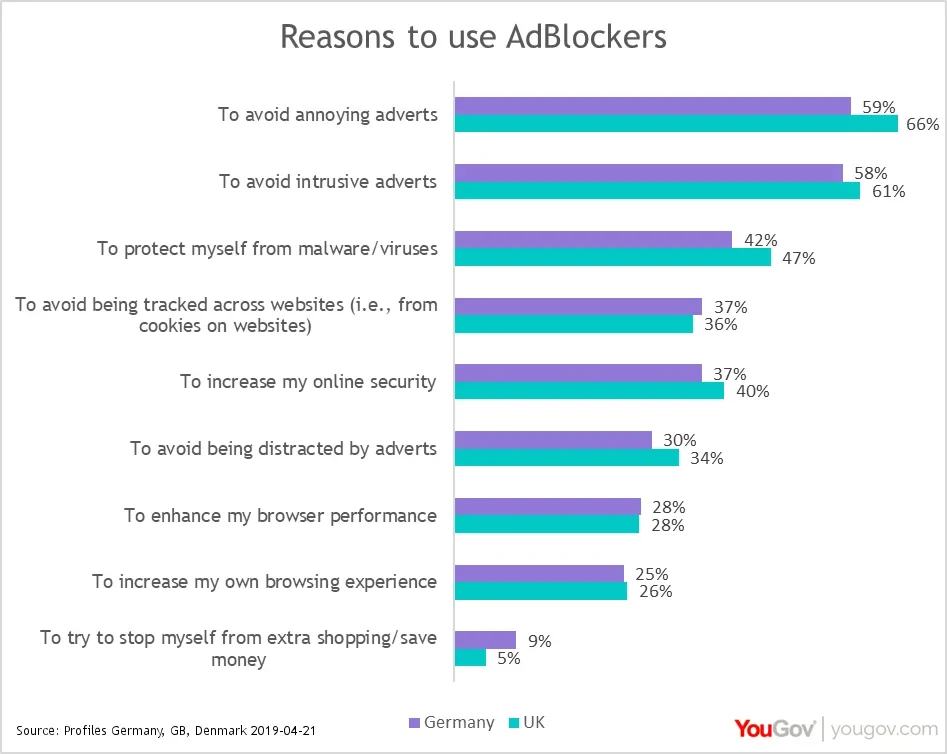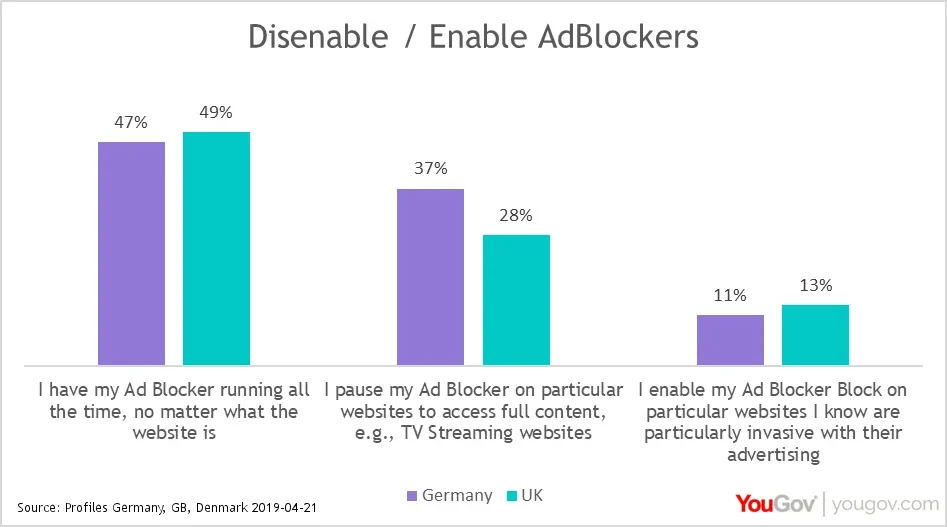 The internet makes us feel less connected as we feel bombarded with irrelevant content. So people are switching off, but as we saw above relevance can make the difference: The good news is that 45% in Germany say they respond to advertising that is tailored to their needs. If you serve people something relevant, rather than retarget them over and over again with content that is not relevant any more, you actually have their attention.
Programmatic advertising and appropriate targeting and programmatic creative can therefore be a solution for the challenges above to make sure a brand gets in front of the right target audience, raises attention and send a relevant message that creates interest in the brand or product. Creating the necessary relevance can be further supported by using consumer insights to define the right target audience in the first place and then create a relevant ad that can be targeted to this audience digitally, not only online or mobile but increasingly also on TV, radio or OHH. YouGov has created different solutions to facilitate a single audience view throughout the whole marketing workflow: planning, execution and tracking. For YouGov Audience Data, we connected our existing data with various adtech partners to build look-a-likes of research-based seed audiences and target those digitally. Additionally, YouGov's latest proposition YouGovDirect, which is a fully opt-in, transparent and fraud free advertising solution, will offer another or complementary approach. Supported by YouGov's deep profiling data, we enable precise consumer targeting and two-way dialogue. For example, we can build an audience via our existing or bespoke data, push that same audience into the digital ecosystem for targeting and measure conversion and success of the ad and campaign as a whole. YouGov continuously collects data from its proprietary online panel: from media consumption, mobile behaviour and social media engagement to attitudes, opinions, demographics and consumer lifestyle and thereby gives marketers a richer, more detailed portrait of their customers' whole lives.
This approach creates opportunities for both multinationals to regain relevance but also local niche brands to find their appropriate audience and put consumer needs in the centre of their campaign and growth planning again. Even better mass personalization through programmatic is a way to serve individual needs at scale.