The latest wave of the YouGov/CBS News 2016 Battleground Tracker polled likely voters in Florida and Ohio
Two of the nation's most important swing states once again come down to the wire, according to the final wave of the YouGov/CBS News 2016 Battleground Tracker.
Florida, where Clinton had bounced between a one- and five-point lead since May, is now tied, 45% for the Democrat, Hillary Clinton, and 45% for Republican, Donald Trump. Since the Battleground Tracker last polled Florida likely voters in October, Trump has edged up two points, while Clinton has fallen by one. Libertarian Party candidate Gary Johnson earns 4% support this time, while the Green Party's Jill Stein is at 2%.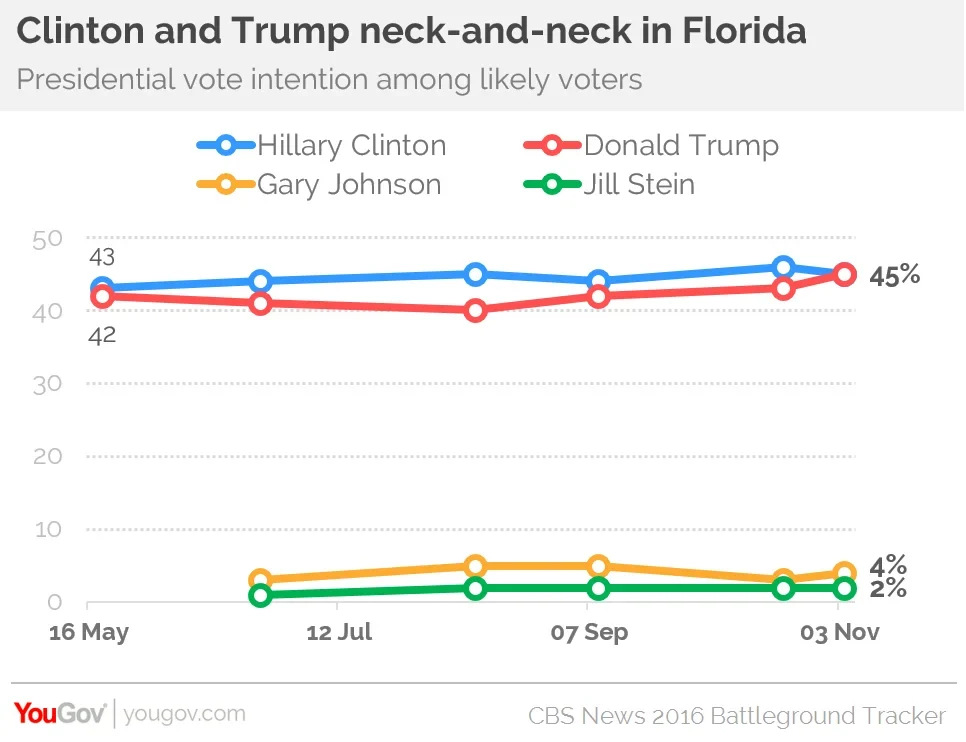 Trump's gains come from undecideds and, in particular, white voters, who now support him by a margin of 23 points, 56% to 33% up from a 15-point lead last month.
The previous Florida poll was conducted at what was arguably a high-point for Clinton, following a strong performance at the third and final presidential debate. Since then, however, the FBI announced it would be reviewing new emails related to Clinton's case, resurfacing what has been one of the most problematic issues for the Democratic nominee's campaign. Indeed, fully half (50%) of likely voters say the issue of Hillary Clinton's emails is not only bad, but worse than anything they know about Donald Trump, according to the poll.
Trump is also benefiting from increased support among Republicans, a trend that could be related to Clinton's email issues, the fading memory of Trump's own controversies, or simply a natural movement of voters towards their partisan homes. 86% of Florida Republicans now support Trump, up from 82%. Clinton's support remains slightly higher among Democrats, at 91%.
These trends benefit Trump even more in Ohio, where he now has 46% support among likely voters, up four points from early October. Clinton, meanwhile, has lost a percentage point and is now at 45%.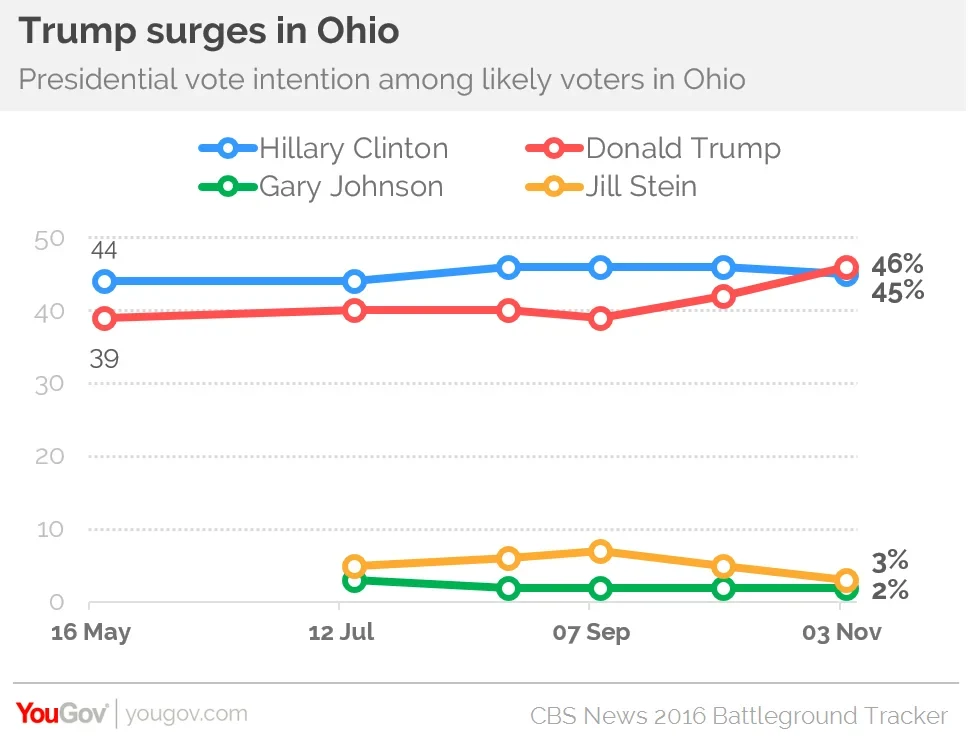 Trump has seen a particularly large growth in support from Ohio independents, who split only narrowly in his favor in October, 42% to 40%, but break decisively for him now, 51% to 32%. As in Florida, he has also grown his support among whites, from a 10-point lead to a 16-point lead. Notably, his increased support among whites comes mostly from college-educated whites, a traditionally Republican group who had nevertheless leaned toward Clinton by a margin of six points in October. In the latest poll he wins this group by 47% to 42% (his lead among whites without a degree showed little change).
Early vote
Both Ohio and Florida allow some forms of early voting and vote by mail, making it possible to see how support breaks down among those who have already cast their ballots and those who haven't yet.

In both states, Clinton holds the lead among early voters while Trump leads with the rest. Ohio early voters break 63% to 33% for Clinton over Trump. However, this is among only 19% of the Ohio voters. Among the vast majority who have yet to vote, Trump leads by eight points, 49% to 41%. In Florida, Clinton's lead among early voters is smaller – just 10 points, 51% to 41% – but also more meaningful because these voters make up 63% of the total. Trump leads by 51% to 35% among the Florida likely voters who remain.
As a result, Trump will be relying on Election Day enthusiasm to push him over the top. There is some evidence he has that in these two states: 80% of his Ohio supporters who have not already voted say they "can't wait to vote", compared to 75% for Clinton. In Florida, the gap between the candidates is larger, suggesting Clinton may have already turned out most of her most enthusiastic supporters. Among those who remain, 81% of Trump voters and only 58% of Clinton supporters "can't wait to vote".

Senate Races
Ohio and Florida are also home to races for the US Senate, both of which were considered potentially competitive early on.
In Ohio at least, that's not at all how things turned out. Republican Sen. Rob Portman, the incumbent, leads his Democratic challenger, former Ohio Governor Ted Strickland, by 13 points (52% to 39%).
The race in Florida is tighter. There, Sen. Marco Rubio, another Republican incumbent, leads Democratic Rep. Patrick Murphy by only three points, 47% to 44%. However, this is an improvement for Rubio compared to last month, when he led by only two.
Interviews were conducted November 2-4, 2016 for the CBS News 2016 Battleground Tracker. A detailed description of the methodology used to carry out the surveys can be found here.
See additional questions and demographic breakdowns for Florida and Ohio.