Most Democrats approve of Clinton's decision to make Tim Kaine her running mate, but most Americans don't know enough about him to have an opinion yet
Hillary Clinton's choice of Virginia Senator Tim Kaine as her running mate gets generally good marks. But like the views about his GOP opponent, Indiana Governor Mike Pence, Kaine is still a blank slate to many potential voters. In the latest Economist/YouGov Poll, just over half the public has yet to form an opinion of Kaine.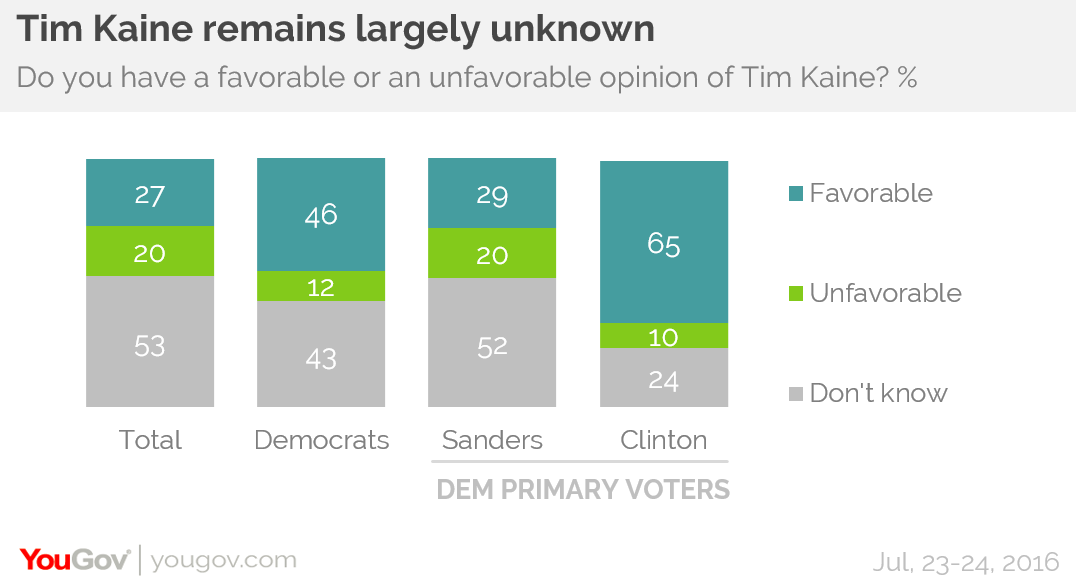 More of those with an opinion like Kaine than dislike him, Democrats are mostly fans, and while Sanders supporters may not be overwhelmingly favorable towards Kaine, more like him than don't.
Much can change after a relatively unknown candidate is introduced to the public after a convention. After the GOP Convention, Republican Vice Presidential nominee Mike Pence's favorable rating rose seven points, while his unfavorable rating changed hardly at all. A third of Americans still don't know enough about Pence to judge him.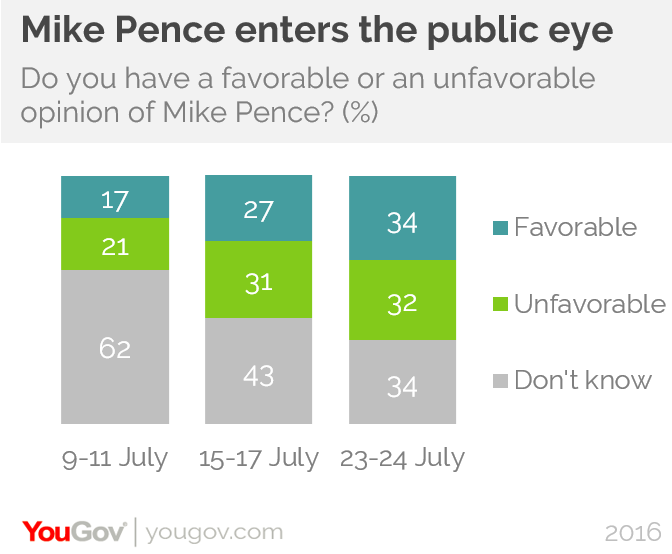 As they were last week, Republicans are overwhelmingly positive about Pence.
While the naming of Kaine did not generate all that much excitement (only 22% of Democrats said Clinton's choice of him made them feel "excited"), the partisan response was generally one of optimism. That was true a week ago, after Republican nominee Donald Trump named Pence. 24% of Republicans were "excited about Pence," while more were "optimistic." The Pence choice, like that of Kaine, also evoked little anger within the party.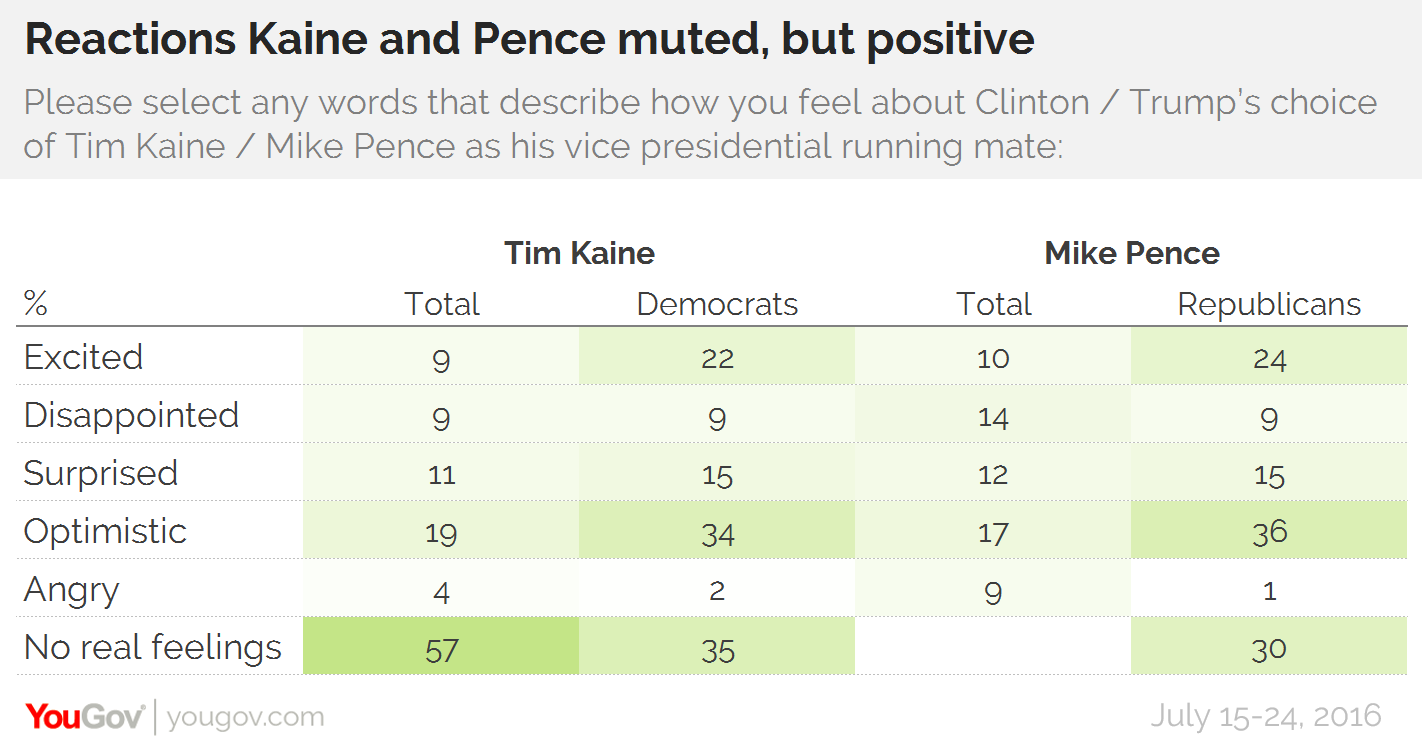 Even among supporters of Clinton's rival, Bernie Sanders, many of whom hoped that a more overtly progressive person would have been named to the post, the response was more of resignation than anger. 5% of Sanders supporters said the choice made them "angry," while one in five were "disappointed." But many said they had no feelings about it.
And like Trump's choice of Pence, the Kaine pick was seen as a good one by those who stated an opinion. More than twice as many overall praised Kaine's selection as did not, with the margin even wider among Democrats. Even among Sanders supporters, more said it was a good choice than a poor one.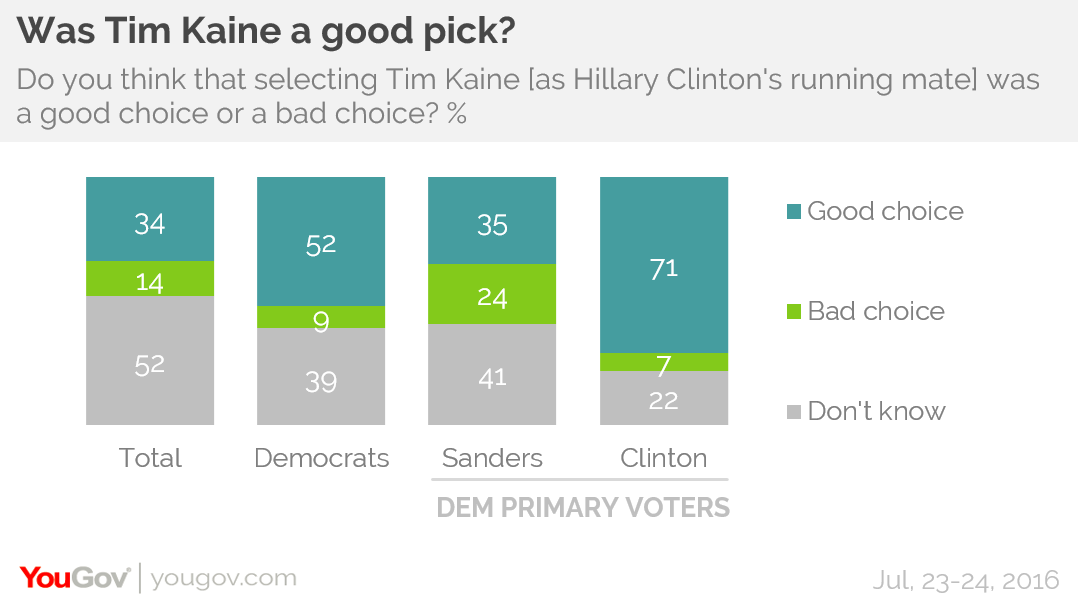 As for Kaine's politics, Democrats, whether they supported Hillary Clinton or Bernie Sanders, view him as a moderate. To Republicans and conservatives, he is more likely to be seen as a liberal. However, one in three Sanders voters think Kaine is "not liberal enough."
Kaine's persona may also help Clinton's image. 56% of respondents in this poll had an unfavorable opinion of the former Secretary of State. And only one in four viewed her as honest and trustworthy, Kaine is both liked and generally seen as honest, at least by those with an opinion. Most important, perhaps, while Kaine – like most vice presidential nominees -- may change few votes, the small percentages who said they were affected by the naming of Kaine were twice as likely to say they would now be more likely to vote for Clinton than to say they were less likely to vote for her. In last week's poll, Pence affected few votes, but for those who might be affected he has a more positive than a negative effect.
See the rest of this week's YouGov/Economist Poll