Party unity on both sides is suffering this election cycle but Republicans face a greater internal split
Donald Trump and Hillary Clinton remain the two party frontrunners, both in preference and in perception. Three-quarters of Democratic primary voters expect former Secretary of State Clinton will be their party's nominee. A slightly smaller percentage of Republican voters think the New York businessman will wind up as the GOP standard bearer.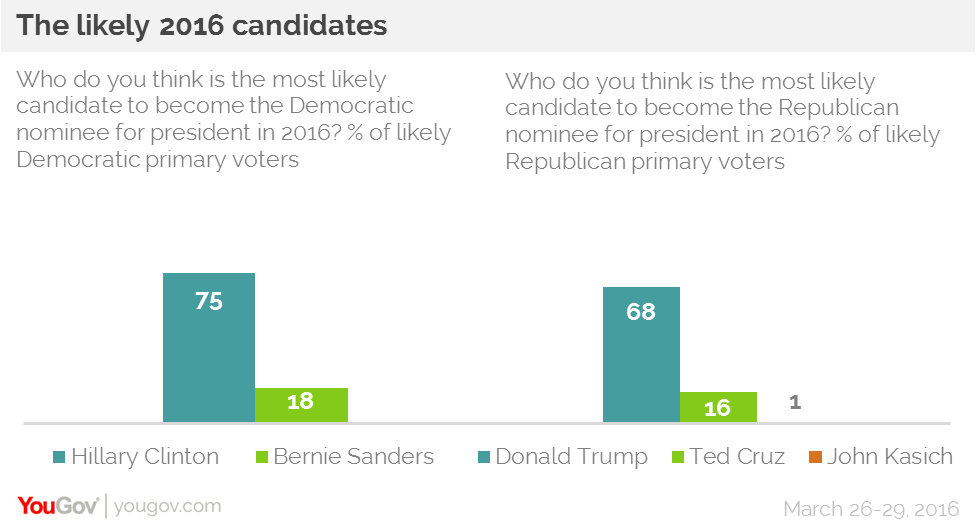 The expectation Clinton will become the Democratic nominee has increased eight points in the latest Economist/YouGov Poll from two weeks ago; Republican voters -- whose support for Trump dipped slightly during the two weeks of campaign attacks between Trump and Cruz – are slightly less sure now that Trump will win their party's nod.
On the GOP side, those last two weeks have brought increased dislike from Trump supporters towards both of his remaining opponents. Half of Trump's supporters now have an unfavorable opinion of Ohio Governor John Kasich, who is in third place. Two weeks ago, they liked him. And as for Trump's closest (but still far back) competitor, Texas Senator Ted Cruz, unfavorable opinions were already high two weeks ago, and have jumped again.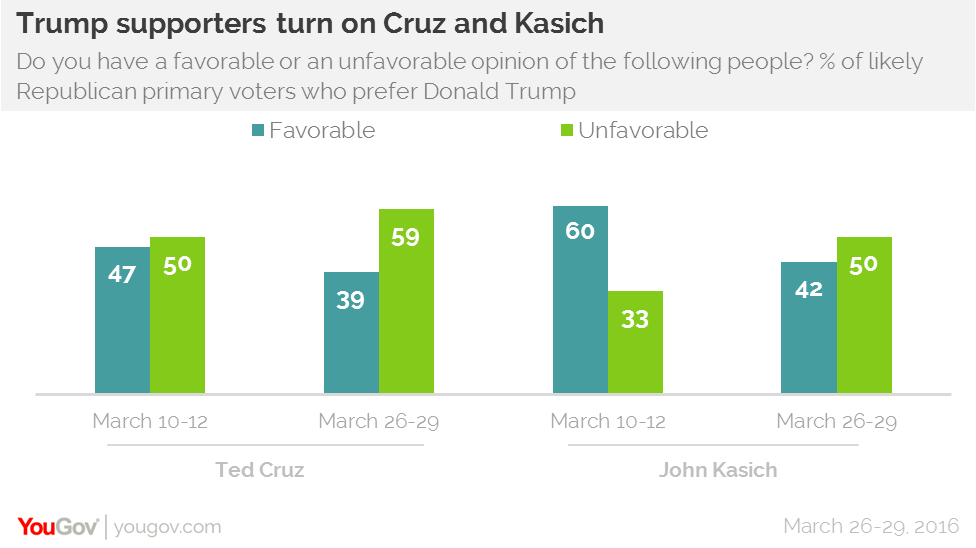 Two weeks ago, the ire of Trump supporters was most likely to be aimed at Florida Senator Marco Rubio, who is no longer in the race.
Republican voters who do not support Trump haven't liked him for a while. This week, two in three Cruz and Kasich voters have a negative opinion of Trump. This is not much different from their opinions two weeks ago.
Only about one in four Trump supporters claim they would be "upset" if Cruz or Kasich won the nomination. But 41% of those not supporting Trump would be "upset" at a Trump nomination victory.
But – if Trump became the GOP nominee -- would those current opponents stay home? Or even defect on Election Day? As of now many of them are not yet sold on the frontrunner. Only 61% of Cruz and Kasich supporters currently are willing to say they would vote for Trump in a race against Hillary Clinton; only 62% would support Trump in a race against the other Democratic candidate, Vermont Senator Bernie Sanders (but only 14% are ready to vote for either Democrat).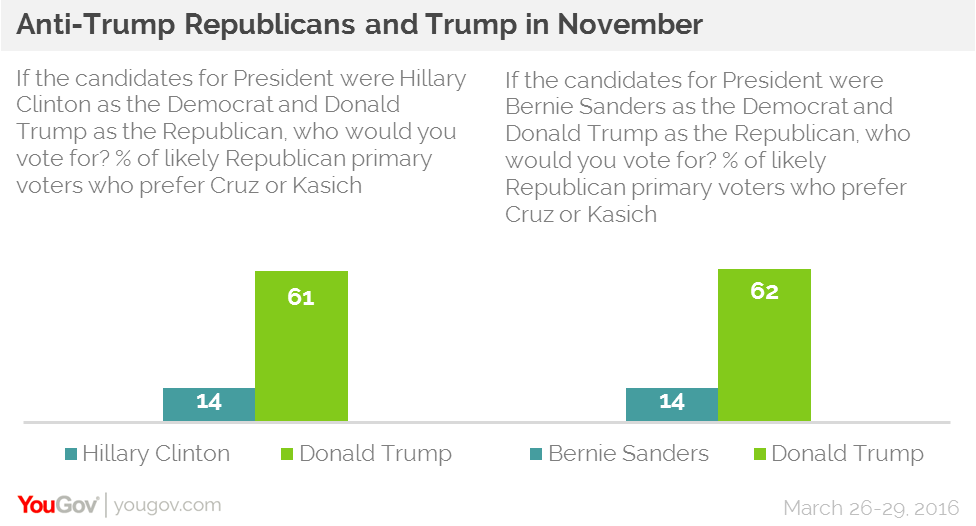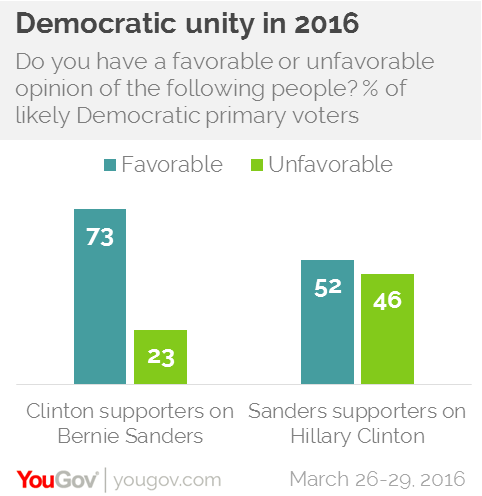 Despite their own party's continuing hard-fought battle, Democratic voters are somewhat less divided. Nearly three in four Clinton supporters have a favorable opinion of Sanders, and while the Vermont Senator's voters are less positive about Clinton, a majority still say they like her. That is an improvement from two weeks ago, when 53% of Sanders supporters said they had an unfavorable view of the former Secretary of State.
But Clinton may still have to woo many Sanders' voters if she is the nominee: 27% of them say they would be "upset" if she became the nominee (in contrast, just 9% of Clinton's voters would be "upset" at a Sanders nomination).
Clinton is viewed as the most electable of all the contenders in both parties by far – even two in three Republican primary voters say she could win the general election (while Sanders is the GOP's choice for the Democratic nomination, a majority of Republican primary voters don't think he could be elected). Still, at the moment only 71% of Sanders supporters are ready to vote for Clinton against Trump, and 14% would defect to the New York businessman. Clinton's supporters are somewhat less likely to defect to Trump if Sanders became the nominee.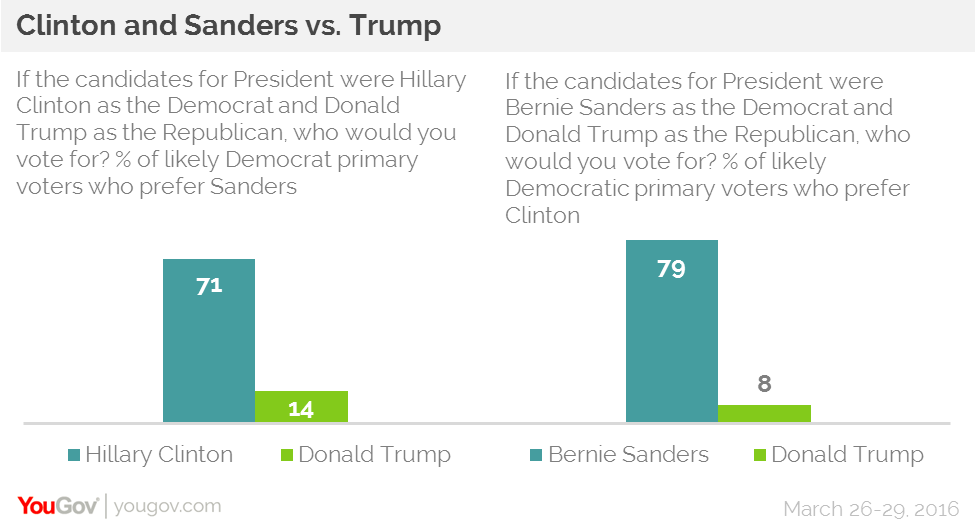 It is important to remember, however, that opinions change, and those that are expressed in the heat of a nomination battle may be different in seven months when the election comes down to the two party nominees. This poll, however, demonstrates the need for at least some fence mending by the current frontrunners before November.
See the Economist/YouGov results
Economist/YouGov poll archives can be found here.